Even our clients themselves soon forget what they used to look like before their scalp micropigmentation. This process happens more quickly than you might think! For us, seeing how quickly our clients get used to their new look (often within a few weeks of the treatment being completed) is a huge compliment. It means we've succeeded in simulating stubble that looks completely natural – so much so that it fools the client's own eye. Sound too good to be true? Why not see for yourself, and take a look at the pictures of our clients displayed below.
All the results shown here are completely finished and fully healed. This means the finished scalp micropigmentation was photographed at least 6 weeks after the final session, so it shows the result as it will look for years to come.
This is not about showing 'after' photos with no redness or freshly created dots. It's because only healed results can truly show how skilled your practitioner is. We've split the examples up into categories for you, to make it easier to find exactly what you're interested in.
Scalp micropigmentation
Scalp micropigmentation was invented with the aim of offering men with advanced hair loss an alternative to hair transplants, which do not work on bald heads, and to toupees, which are not very popular. These days, scalp micropigmentation has long ceased to be a niche product. More and more men now understand why a hair transplant would not be the best option for them, and many are not keen on the idea of a long and invasive surgical procedure. A close-shaven look with scalp micropigmentation is the most long-lasting solution to hair loss. Check out these different examples of how natural-looking and liberating scalp micropigmentation can be.
Hair thickening
Not all men have to shave their heads as a result of their hair loss. Some may have a few years left before they go bald, while others may have had one or more hair transplants in the past, giving them a certain amount of hair density. Hair loss also affects women, who rarely have any desire to shave their heads. This is where hair thickening comes in. Technically there's no difference between hair thickening and "traditional" scalp micropigmentation, except that the approach we take is slightly different. With hair thickening, we apply pigments where the longer hair is, to make it look thicker. This doesn't hurt the hair roots at all. To the naked eye, the dots blend in seamlessly with your own hair and conceal the visible parts of your scalp. Hair thickening may be an option if you're suffering from hair loss but you don't have any completely bald patches yet (this applies to both men and women), or if you already have even coverage thanks to past hair transplants, but you want your hair to appear thicker. A hybrid solution following a hair transplant is also an option for men. The procedure is carried out while your head is shaved, but you can wear your hair at different lengths after that. This offers maximum flexibility (please note: for this option to work, you can't have any completely bald patches!) Take a look at the different possibilities for making hair look thicker using scalp micropigmentation.
Scar micropigmentation
We have many clients who come to us following a bad hair transplant. These clients not only want to make the hair on the top of their head look thicker (or sometimes to "salvage" it), but also to conceal the donor area, where unsightly FUT or FUE scars are clearly visible. Scalp micropigmentation is uniquely effective in its ability to conceal all kinds of scars. Like traditional scalp micropigmentation, scar micropigmentation is built up and made denser over the course of several sessions. Afterwards, it's almost impossible for other people to spot your scars in day-to-day life. Do you have FUT, FUE or other surgical scars? Our examples will help you decide whether scar micropigmentation is for you. Take a look!
Beard micropigmentation
Yes, your beard can be affected by hair loss too. Sometimes gaps can appear as you age. Or perhaps your beard growth has never been completely even. Alopecia barbae can also be a cause of bald spots in facial hair. Whatever the reason, micropigmentation can help you conceal hair loss on your face as well as your head. Across the world, beard micropigmentation is the latest way of helping men combat hair loss using the technology and expertise of traditional scalp micropigmentation. There are many reasons a man might want beard micropigmentation. Some men have never developed full beard growth. Creating the illusion of natural-looking stubble can be a great option for them. Others do have a full beard, with an attractive shape, but it is blighted by visible gaps. These can be filled in using micropigmentation. In many cases, clients who end up having beard micropigmentation at our studio originally came to us about hair loss on their head. When we were able to solve their hair problems, and they saw for themselves what a natural look scalp micropigmentation can create, they were keen to improve the appearance of their beard too. Do you feel the same? Do you want a thicker look for your beard? Get inspired by our examples of beard micropigmentation!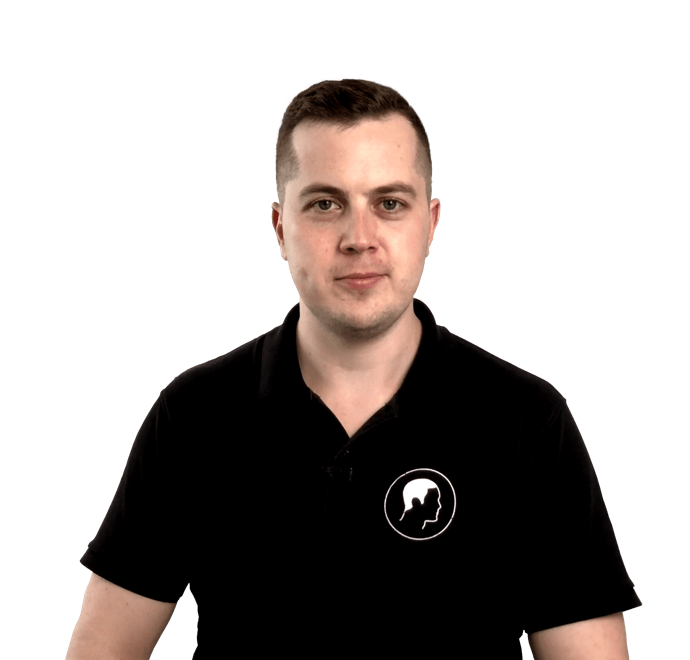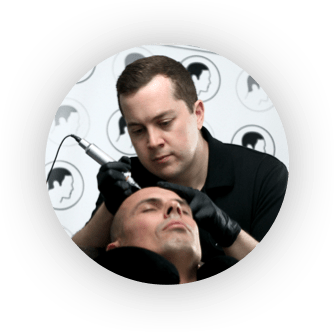 George Sawadowskij
The longest-serving scalp micropigmentation practitioner in the whole of Germany, Austria and Switzerland. Exclusive to Modern Hair Loss Solution. Check out his work in our before-and-after gallery and our live videos, and see for yourself!
YouTube
Facebook