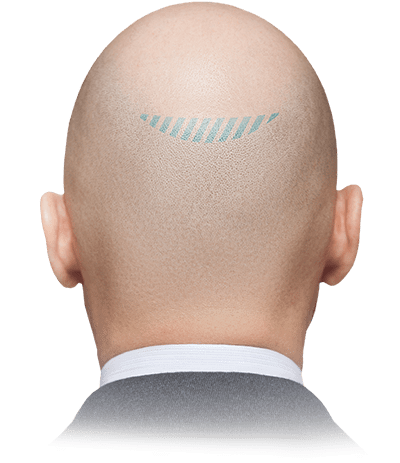 A small area is pigmented and joined onto the existing hair
A perfect opportunity to get to know your skin
Our patch test
For those who are not yet sure whether scalp micropigmentation is the best option for them, as well as those with sensitive skin or a complicated medical history, we offer a micropigmentation tester so that prospective clients can give the procedure a trial run. This is the easiest way to get an idea of the possibilities of scalp micropigmentation and gain an insight into how the treatment works. The patch test is completely optional and you don't have to have one before starting scalp micropigmentation treatment. Our micropigmentation tester costs €150.00, which is deducted in full from your bill if you go on to have scalp micropigmentation treatment with us.
The micropigmentation tester basically works just like normal scalp micropigmentation. We pigment a small area on your head. The process is very similar to what happens during the first session of a course of scalp micropigmentation treatment. We take a very cautious approach to the intensity of the colour and the density of the dots. We work with extreme care to make sure your patch test will be visible to you and no-one else.
The result may appear pale and weak when fully healed. This is not a mistake, but an important reference point for us when it comes to choosing the right colour intensity for your first "proper" session. If you decide not to proceed with a course of micropigmentation after your patch test, you can simply ignore the micropigmentation tester. It won't be noticeable to you or those around you.
We'll discuss with you where you want your patch test to be positioned. We'll suggest at least two different areas for you to choose from. It's really important that the patch test blends in seamlessly with your existing hair. Whichever area you choose, we'll be able to show you exactly what the result looks like in several mirrors. We'll also take photos so that you can get a really close look.
No! A micropigmentation tester is (almost) always optional. We rarely insist on a patch test, and only do so in cases where the client has certain pre-existing conditions which could adversely affect the process. It's also advisable to have a patch test if you have very sensitive skin or dermatological problems. This allows for a more accurate prognosis as to how many sessions you will need and the sort of results you can expect.
In our experience, only a small number of clients have patch tests.